Today's Mother Mary Card Is...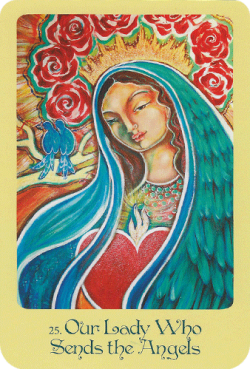 Credits: "Mother Mary Oracle" | Author: Alana Fairchild | Artwork: Shiloh Sophia McCloud | Publisher: Blue Angel Publishing
"Our Lady Who Sends the Angels"
Mother Mary's message for you
My child, you have been hoping for big changes – or even little ones – to occur in your life. I say to you today that your prayers have been heard. I am sending my angels to help you in every way they can. We are a heavenly team with huge resources so we can assist you in countless ways. All you need to do is to pray to me and we are there with you.
My holy plan of love involves the angels who will be with you to show you the way forward. No matter how hopeful or hopeless the situation, there is always a heavenly solution. My angels will help you to find your way even in the darkest of nights. So, relax in the knowledge that you are always taken care of, no matter what.
Even people who don't believe in angels benefit from their energy, believe it or not! Having said that, praying certainly helps things along a good bit. You see, the Holy Mother has an incredible connection with the angelic realm – that's why she is sometimes referred to as the Queen of the Angels. She was often helped and blessed by them throughout her life and she wants the same for you.
Mother Mary wishes you to trust in your inner voice right now because you are being angelically guided. Take the time to pray for their intervention, assistance and protection. Allow them to work on your behalf to heal certain situations as they help you to open new doors that will bring you happiness and stability. Have faith that the future is to be so much better than the past!
See yourself surrounded by pure, brilliant white light. Feel heavenly energy flowing through you as you connect with the angels. In your mind's eye you may even see them surrounding you. Just relax as you let your visions unfold in front of you as you feel confident that everything is set to work out perfectly.
When you are ready, say the following prayer or one of your own, if you would prefer, "Our Lady and the angels, I humbly ask for your guidance, divine help and protection. (At this point you can ask for help with a specific situation if you would like to). Please assist me in every area of my world so that I may live a full, giving and selfless life in your name. Let this be so now and always."
Do You Want To Support Our Website?