Today's Mother Mary Card Is...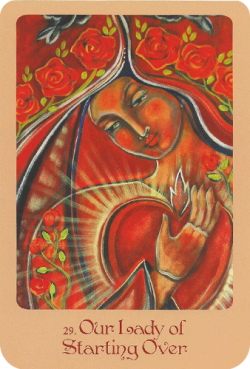 Credits: "Mother Mary Oracle" | Author: Alana Fairchild | Artwork: Shiloh Sophia McCloud | Publisher: Blue Angel Publishing
"Our Lady of Starting Over"
Mother Mary's message for you
Even though you may have grown weary of beginning your life over and over again, my dearest child, I am here to say to you that it is time to put something behind you now. And, it is perfectly normal to feel grief about this situation. It's always sad when things come to an end. Nevertheless, have faith that there is always going to be a fresh start to look forward to.
Have confidence that this transition is happening so that you might experience genuine joy in the future. As a result of your own progress, you will be an inspiration to others. Also, the thing you are letting go of won't suffer any negative consequences as a result of your actions. Keeping this in mind, put your confidence in my forgiving compassion as you give all of your questions and concerns over to me!
A completely fresh objective is beckoning you today. Although you are venturing into an uncharted area, there is still a chance that this will turn out to be beneficial for you. So,it is time for you to start stretching yourself beyond your usual safety zone. Things could become quite eventful for you in a positive manner, so just try to make the most of everything that comes your way.
Shifts are either currently taking place or are going to start happening soon. As a result, there is absolutely no reason to try to push the situation. When it is the right time for you to move on to other things, you will feel it in your heart. When that eventually happens, Our Lady will be there to assist and direct you.
You see Mother Mary seated in front of you, her face illuminated by a warm golden glow. While you gaze into her beautiful eyes, make a connection with her holy heart. Know that you are free to let go of all of your concerns, anxieties and negative experiences. 
Say the following healing prayer when you are ready, "Our Lady of Starting Over, assist me to let go as you embrace me in your tender heart.  Come along with me as I begin anew in a number of different areas of my life. Permit me to always walk this new journey of everlasting love with you. Let this come to pass through the power of my own free will and the grace of your holy name!"
Do You Want To Support Our Website?