Today's Mother Mary Card Is...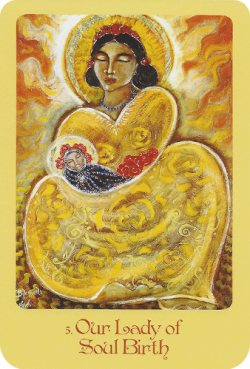 Credits: "Mother Mary Oracle" | Author: Alana Fairchild | Artwork: Shiloh Sophia McCloud | Publisher: Blue Angel Publishing
Mother Mary's message for you
Although you may have sometimes felt that you are alone, this has never been so, my dear one. We have never been separated – not for a minute. When you are happy, I am happy. When you cry tears of sadness, so too do I weep. Throughout your journey I have held you in my loving arms. Have faith that nothing can ever change this. You are safe with me always!
I accept you for everything that you are, my child. You can be yourself with me because I am your mother and I know who you are. When you are unhappy within yourself, it makes me unhappy too. Similarly, when you love yourself I feel so happy! So, just love yourself, love the world and continue to love me. You are the light that this planet needs to thrive. Always remember this!
The journey of the soul is never simple or easy. As well as the good times, there are also the not-so-great ones to deal with. However, for all the grief, upset, shame and guilt, there is always that flip side. Pure joy, happiness and laughter make you the wonderful being you are. You are the sum of all your experiences so you should honour both these and yourself.
You see, it is only through being whole that we are capable of allowing the divine to manifest through us. So, to fully live, it's crucial to open up your heart and your soul to Mother Mary and to all the blessed miracles she wishes to bestow upon you. Have faith that through this you will become an instrument of her grace!
Close your eyes as you imagine that you are brimming full of the golden light of Mother Mary. You can feel pure happiness and joy enveloping you. You are both laughing together as you enjoy every precious moment! This is truly blissful.
When you are ready, say the following, "Beautiful Mother, burning bright with your heavenly goodness, we are both one together! Be with me throughout everything that I do. Provide me with everything I need to become the best me I can be. I ask for you to always provide my soul with your nourishing love and light!"
Do You Want To Support Our Website?