Today's Mother Mary Card Is...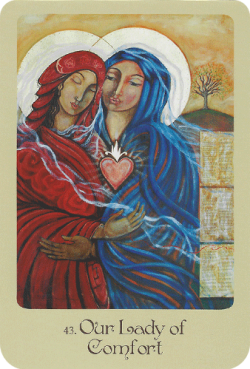 Credits: "Mother Mary Oracle" | Author: Alana Fairchild | Artwork: Shiloh Sophia McCloud | Publisher: Blue Angel Publishing
Mother Mary's message for you
I have your hand in mine as I  communicate from my heart to yours. My child, I promise you that  I am always here to provide love and protection to you. Let there be no doubt in your mind that  I could not bear the thought of being apart from you. I ask that you take these sentiments to heart.
I have never stopped loving you. From the time you were  just a little little infant, I never left your side  through the happy and the sad times. My undying devotion for you ensures that you are never left all by yourself. Have trust that the rough seas of life will calm down for you soon!
You are currently receiving the protective and restorative care of Our Lady of Comfort who will never leave your side. Soon, you will have the opportunity to participate in some very amazing events. You are going to be showered with such exquisite gifts that it will seem like you have been rejuvenated in many different ways.
You will be feeling far happier within yourself than you have in a very long time. You have needed a safe haven to pop up for you. Let Our Lady of Comfort be that place. She also urges you to confide in others so you can share your worries and thoughts with the people who care about you.
Do not hesitate to turn to Our Lady Of Comfort if you or somebody you care about is going through a difficult time and cannot seem to find relief. If you ask Our Lady respectfully and tenderly, she will give you everything you need at the correct moment. You are free to enlist her help in any situation involving you or anybody else you have concerns about
When you feel ready, say aloud, "I ask Our Lady to bless me with divine guidance, tenderness and the ability to heal. Please give me the strength to tackle anything that comes my way. In your holy name, let this be so!"
Do You Want To Support Our Website?