Today's Mother Mary Card Is...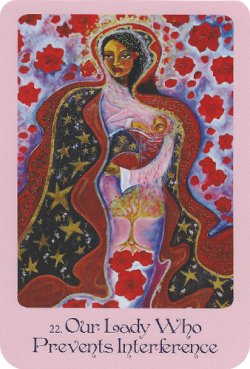 Credits: "Mother Mary Oracle" | Author: Alana Fairchild | Artwork: Shiloh Sophia McCloud | Publisher: Blue Angel Publishing
"Our Lady Who Prevents Interference"
Mother Mary's message for you
Your cosmic consciousness is increasing, my beloved and via love you are drawing many into your life who may be nurtured by you. It's possible that some people are actually afraid of the love that's growing inside of you, so they try to stifle it. Do not fear though, because my love for you is bigger than any anxiety, I am your saviour and protector. 
Put your faith in me with all of your heart. You shall not be hurt, nor shall you be distracted from your destined heavenly victory, on my road of love. Have faith that I will thwart any attempts at spiritual sabotage that may come from any direction. Know that the triumph of spiritual liberation will be yours so long as you stay close to me!
As a precious child of Our Lady, you carry her vocation of love to completion alongside her. You might deliberately seek heavenly shelter via Our Lady's intercession by being more attentive to her, which is a great thing. Know that you will not be so influenced by any unhappiness around you. Then, you may radiate your light and utilise your infectious holy love to encourage others to also focus on being positive. 
You see, a great energy is unleashed when love flows through a person who is confident in their heavenly protection. It therefore comes as no surprise that those powers that want fear to reign constantly may seek to impede your spiritual progress. Thankfully, people who are on their way to enlightenment are privileged enough to be protected by the Divine Mother just by remembering to pray every day.
"I beg you, Mother Mary, to shelter me with your heavenly strength and love. Permit me to pursue my elevation, awakening and awareness inside this illumination and let me be liberated to do so. Allow me to be willing to open my heart fearlessly, bringing down the self-made blocks I created to shelter my heart from suffering." 
"I have the power and will to overcome obstacles, adopt new perspectives and to perceive the interconnectedness of all things without the anxiety that is currently preventing me from doing so."
Do You Want To Support Our Website?