Today's Mother Mary Card Is...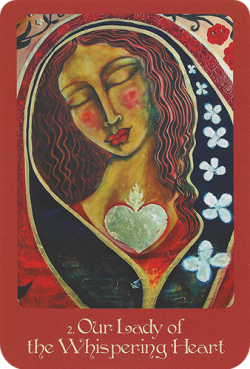 Credits: "Mother Mary Oracle" | Author: Alana Fairchild | Artwork: Shiloh Sophia McCloud | Publisher: Blue Angel Publishing
"Our Lady of the Whispering Heart"
Mother Mary's message for you
I live inside your heart because I love to be close to you, my dear child. I speak to you every day from that hallowed place. Perhaps you are  aware of my presence.  I am the inner voice assuring you that everything is fine. I am the sensation in your heart that lets you know it's okay to trust, regardless of how things look.
I am the assurance in your heart that every prayer you say is heard and immediately answered by me. I am your heart's delight and comfort when you realise your granted prayers are already blossoming in heavenly beauty. I bring you great peace, my beloved one.
I am always with you whispering my guidance into your heart. I see your life as it is and will be. With me by your side, you can move mountains. You can create new worlds. You can be truly happy without having to worry about how other people see you.
You will soon have a decision to make which will cause you to need to take some time out for yourself to think. Have faith that our hearts are intertwined. Therefore, there is a great sense of peace after the storm that is coming your way. Enjoy this period because it will be good for you.
This card also predicts that you will receive a crucial communication either right now or very soon. This message will either be a response to a prayer you've previously spoken or a solution to a concern you didn't even realise you had! To help this all along, the following prayer may help:
"My environment is shifting. Even if some grief is an essential rite of passage in my blossoming contentment, I have all the guiding light I need for this transformation to be a healthy one. I have trust in Mother Mary as I beg her to always stay with me, leading me via her heart. I ask her to speak to me in a way that allows my heart to be filled with truth.
Do You Want To Support Our Website?