Today's Mother Mary Card Is...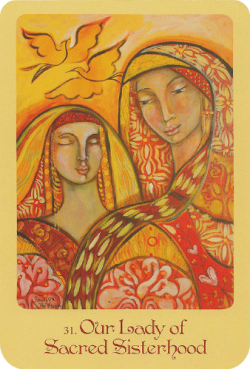 Credits: "Mother Mary Oracle" | Author: Alana Fairchild | Artwork: Shiloh Sophia McCloud | Publisher: Blue Angel Publishing
"Our Lady of Sacred Sisterhood"
Mother Mary's message for you
I am physically and spiritually present for you at all times. I am the source of life for everything. I am the tenderness that you experience right at the centre of your heart. The gentle warmth of the sun allows you to sense my presence. I am involved in all positive things. I am strong. I am all there is. 
I am your Mother Mary, who has never had any doubts about her love for you and who will never stop adoring you, my dearly cherished child. I have come to speak with you now to stress the significance of the outer world in comparison to the significance of your inner one.
You are going to start identifying with your feminine side in a variety of delightful ways very soon. You might meet someone who is very at one with their emotions, beliefs, empathy and creative side. Nevertheless, one thing that is very evident is that you will have this connection precisely when you require it. 
This individual may enter your world in any capacity. They will show you life from a different perspective than the one you now hold. It will be good for you because you will achieve a greater sense of equilibrium as a result. You will also achieve such a strong sense of connection with the divine feminine, which will allow more joy, optimism and love into your life.
Create a mental image of a beautiful person standing in front of you right now. As you gaze upon this person, you should have a sense of their lovely and restorative feminine energy. Pay attention now to the person's face. Do you recognise the person? If not, don't worry about it. 
This person is meant to serve as a symbol of the individual with whom you are about to make contact. You will quickly have a clear understanding of who they are when the time is right. When you are ready, say something along these lines: "I respect the radiance inside you as I respect the glow within myself.  I pray that Our Lady, by the restorative compassion she bestows, infuses all interactions I have with her mercy and kindness."
Do You Want To Support Our Website?