Today's Mother Mary Card Is...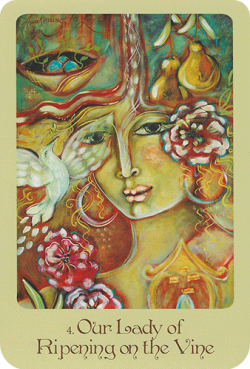 Credits: "Mother Mary Oracle" | Author: Alana Fairchild | Artwork: Shiloh Sophia McCloud | Publisher: Blue Angel Publishing
"Our Lady of Ripening on the Vine"
Mother Mary's message for you
True, you have fantastic occasions ahead of you in your destiny. However, you must not allow these to divert your attention away from the current gifts I am delivering to you. It is now time for you, my dearest one, to open your heart to all the joys that are available in this moment. You are soon to receive such lovely blessings. Recognise that you are completely deserving of these!
Dreaming is a great thing. In fact, I urge you to do so since it will nourish your spirit and increase your faith. As a valued child of God, you need the light of hope to burn brightly in your life. There is nothing that can flourish on this planet without it. So, now is the time to live your light. Now is the moment to take advantage of all the gifts that are available to you!
Our Lady of Ripening on the Vine makes it known that you have a genuine sense of preparedness right now. Even if everything surrounding you isn't quite right for you to take action, remember that now is a fortunate opportunity to do so since Mother Mary is with you.
Our Lady requests that you respect the spark that is currently inside you. Act on it with great confidence that all will turn out perfectly. Now is the ideal time to put your faith in yourself. Have confidence that you are the one Mother Mary has picked. You are a conduit for God and the messengers. They have filled you with their divine essence in order for you to succeed.
Imagine yourself in a magnificent landscape, surrounded by plants and vines packed with delicious, luxuriant fruit. The sun is shining gloriously now, despite the previous rain, as you raise your arm to pluck a truly delicious piece of fruit. It gracefully falls from the vine, glistening with brilliant light. Right at this moment, you know that everything will happen perfectly for you when the moment is right.
When you feel ready, say the following prayer,"Mother Mary, bless you for embracing me in your loving arms,  I feel cared for and nourished. I'm bursting at the seams with natural vigour! I'm grateful for everything I've been given in the past, as well as all the fantastic opportunities that await me in the future. This joy is due to me!"
Do You Want To Support Our Website?