Today's Mother Mary Card Is...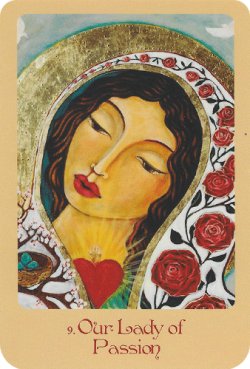 Credits: "Mother Mary Oracle" | Author: Alana Fairchild | Artwork: Shiloh Sophia McCloud | Publisher: Blue Angel Publishing
Mother Mary's message for you
At the moment, you're filled with a dazzling celestial light. There's a fire burning within you, whether or not you're aware of it. Passion, concentration and excitement exude from you. Be grateful for the little pleasures in life and let go of whatever worries or anxieties you may have. 
I have provided for you since the day you came into this world. I will continue to do this forever, so, have faith that you can fully enjoy all the gifts that life has to offer you. You are creating, doing and giving, which is so positive for you as well as the people around you!
Your current lack of excitement about life may cause you concern right now. Alternatively, you may also feel that you have a set life goal and a desire that has no limits! However you currently feel, know that a  seed of fire, holiness and honesty was sown by Our Lady within you. Even if you think you know what your life's purpose is, you're about to experience a significant shift in perspective and understanding.
You're working for a greater goal. Basically, it's the sum total of all of your thoughts, actions, relationships, goals, etc. Fortunately, you have access to all the spiritual support you could ever need. Your life's objective is to become the person you were meant to be!
"Kindness is the only thing I ask of you. Mother Mary, may your uplifting energies flow into the core of my soul, purifying and restoring me to fullness and vigour.  As I pursue my life's mission, I'm guided by the kindness of Mother Mary as well as the aspirations in my own heart."
"I have all the support and encouragement I require to be successful. My genuine calling is shown through my devotion. The divine is orchestrating every detail of my existence now and forever. I give thanks to the spiritual realm for their beautiful blessings every day!"
Do You Want To Support Our Website?