Today's Mother Mary Card Is...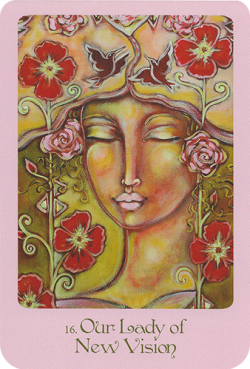 Credits: "Mother Mary Oracle" | Author: Alana Fairchild | Artwork: Shiloh Sophia McCloud | Publisher: Blue Angel Publishing
Mother Mary's message for you
It is time to free yourself of routine in order to make way for something fresh and interesting to enter. When I consider the splendour that is within your soul, I am blown away. So, I help you by placing the gift of holy sight within you!
It is now time to have the guts to firmly believe in yourself with passion and fire so that your dreams might be realised in the most helpful ways possible. Out there, there is a vast and expansive universe that is brimming with promise and opportunity. This is the moment to take a firm hold of it!
Every one of us will experience a time in our life when we will be required to acquire a new point of view. Maybe the event that we imagined would bring us happiness in the future has already occurred, and now we are motivated to focus on something else. 
Or, it's conceivable that our earlier goals haven't come to fruition in the way we had envisioned they would. However, don't worry because what is meant for you will not bypass you. According to Our Lady of the New Vision, we are going to have an even better future than we currently expect and hope for!
Our Lady reveals to us that we have the potential to be of benefit not only to ourselves but also to others if we purge ourselves of limiting beliefs and prepare ourselves to receive a higher vision. However, we need to believe without a shadow of a doubt, that this is a possibility as a result of the divine power that she bestows upon us. Saying the prayer that follows will be of great assistance in this endeavour:
"Dear Divine Mother, I pray that the birth of your masterpieces takes place in the most natural and stunning way possible. I can sense that you are leading me in the direction of an innovative and fascinating new perspective. It is a terrific time to be hopeful and filled with inspiration. Now is the moment for me to have trust and to receive. I am confident that I can do so with the assurance that the Holy Mother is standing right here next to me."
Do You Want To Support Our Website?