Today's Mother Mary Card Is...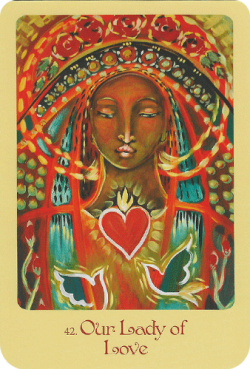 Credits: "Mother Mary Oracle" | Author: Alana Fairchild | Artwork: Shiloh Sophia McCloud | Publisher: Blue Angel Publishing
Mother Mary's message for you
I am Our Lady of Love, and I am the one who summons you to return to me, my child. As I draw you closer, I envelop you with the never-ending love that I have for you. I come to you radiating loving and caring vibrations from my heart and with roses crowning my hair. Kindness and devotion are mine to give to you.
I want to bring to your notice the fact that there is the possibility of a new passion entering your life which is a change that should be celebrated!  It is important for you to put all of your uncertainties to rest and to now tear down the barriers that you have constructed around yourself for such a long period.
It is important to keep in mind that your initial intention for compassion must be aimed within yourself. You see, the tenderness that you show to yourself will have a great impact on the energy you give out to others. You are being blessed by Our Lady of Love who loves to see you happy!
Love with another person can only be experienced when you respect and embrace yourself unreservedly. Forgiveness and self-acceptance are prerequisites for moving on. Love cannot be fully experienced if your heart is guarded, if you refuse to embrace elements of who you are due to fear or if you withhold affection from a person you care about.
Imagine that there is a lovely rainbow of protecting light all around you while you sit peacefully. You are immune to all harm from this point forward. Get used to the safety and security provided by this shield so that you can rely on it whenever you have a problem. Take pleasure in how you now feel. Make sure to record all that you are feeling in your mind. Say the following prayer when you are ready and after you have reached a state of perfect calm:
"Holy Mother, I understand that love and loyalty follow forgiveness. Enable me to embrace who I am without guilt, shame, remorse or resentment for the decisions I have made in the past. Let me walk into the future shedding any negativity I have carried with me for so long."
Do You Want To Support Our Website?