Today's Mother Mary Card Is...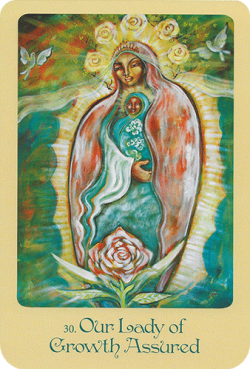 Credits: "Mother Mary Oracle" | Author: Alana Fairchild | Artwork: Shiloh Sophia McCloud | Publisher: Blue Angel Publishing
"Our Lady of Growth Assured"
Mother Mary's message for you
Beloved, today is such a positive day for you because I am here to tell you that your future growth is completely assured. Maybe you have been hoping for some form of change to occur for a while. If so, have faith that I am guiding you toward what is best for your own highest good. Through me you will be reborn!
I am here to tell you not to give up. It is crucial now that you have the patience, openness and even child-like wonder to welcome any and all positive manifestations that come your way. When you work on being open, a whole new world of possibilities can and will be yours. If you believe that anything can happen, then it truly will. I am your mother so I will never let you down!
Your life is going to change for the better soon! No matter what you expect to happen, something even better and more fitting to you personally is going to occur. The best way you can help this along is to get into the mindset of being abundantly blessed. Practice being thankful every day for what you have because by doing this, you will attract more and more wonderful gifts!
Remember also not to panic or to worry about potentially failing. If things don't go exactly as you expect initially, you can always change your tactics and plans to suit. Bear in mind that even when things seem to be at their most hopeless, this is the very moment before they change. So, focus on the good in every situation as you trust that your growth is assured.
"Mother Mary it is your desire that your children are joyful. With this in mind, I humbly ask that you help me to develop in thanks and appreciation as I grow as a person and towards my goals each and every day. My ultimate purpose is to become a reflection of your majesty and grace.
Assist me, Our Lady, to develop my trust, optimism and compassion. I ask also that you provide me with grace so that I might grow in your image. May my heart's desire and  spiritual growth manifest when and as it should so that I can move forward confidently as I praise your holy name!"
Do You Want To Support Our Website?