Today's Mother Mary Card Is...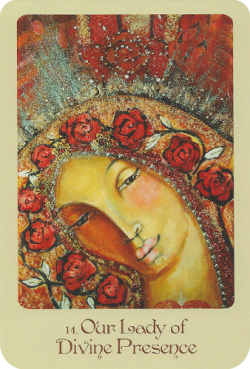 Credits: "Mother Mary Oracle" | Author: Alana Fairchild | Artwork: Shiloh Sophia McCloud | Publisher: Blue Angel Publishing
"Our Lady of Divine Presence"
Mother Mary's message for you
You have been opening your heart as you prepare to receive my message for you. Past doubt and shame is clearing away because I am alive and working within you. You are filled with the most divine light and love that will shine brightly within you for all time. Your wish to serve others to the best of your ability is granted!
As you open your mind and heart to me, have faith that I am working with you, in you and through you. Everything you touch is being touched by my hand too. My divine presence is never far away from you, my beloved child. My loving grace flows through you into the soul and heart of the world!
You are at the stage in life where you are ready to make philosophies or ideas into actual experiences. You are to become the embodiment of spirituality as your soul takes over from the day-to-day, enabling you to become more aware of Our Lady of Divine Presence.
There are milestones ahead of you where you will shift up a gear in terms of your spiritual life. When these occur, you are becoming more and more capable of enabling divine presence to live and work within you. You will then find that it is easier for you to heal yourself as well as to help and heal others. Feel yourself opening up as you embrace divine presence in every way possible!
As you focus on your breathing with your eyes closed, feel the deep connection you have with Our Lady of Divine Presence. See your entire body filled with sparkling warm light. You can feel this fizzing inside you as you connect in great depth with the divine. Now, see the Holy Mother's face gazing at you with such love in her heart.
When you feel ready, say the following, "Our Lady of the Divine Presence, your love, light and peace lives within me. Your beautiful energy permeates throughout every fibre of my being as my heart opens up to you fully and with such joy. I pray for your loving grace to touch every aspect of my life and the lives of everyone I meet!"
Do You Want To Support Our Website?