Today's Mother Mary Card Is...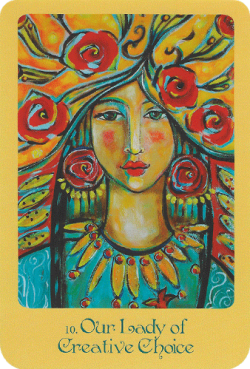 Credits: "Mother Mary Oracle" | Author: Alana Fairchild | Artwork: Shiloh Sophia McCloud | Publisher: Blue Angel Publishing
"Our Lady of Creative Choice"
Mother Mary's message for you
You are free to achieve anything you wish to, my beloved one! You can move mountains because you have my power within you. You are not a slave to anything or anyone because you are a divine being. By using your creative choice you can make your mark on the world in little and huge ways. Remember that even the tiniest decision relies on your creative power. 
Have faith in yourself, dear one. With my help, love and guidance, you have all the resources you need to succeed. You can positively touch so many lives with your creative choices. I will assist you to connect with the passion that lies within your heart so do not ever feel that you need to cast your ambitions aside to put other things first. You can have it all!
My dear one, you have complete freedom to pursue your goals. Because you have my strength throughout you, you can work miracles. Your heavenly nature means that you are never a slave to anything at all. You can make a difference in the world in both little and large ways by expressing yourself creatively. 
Dear one, believe in yourself. There are no obstacles in your way as long as I'm at your side. With your innovative decisions, you can have a great impact on so many people. Have faith that I will help you to find the fire that burns in your heart!
Today, Our Lady of Creative Choice is by your side. She wishes you to feel confident in terms of your abilities as well as about your impact on people now and in the future. To make the most of your connection with Her, the following prayer will help:
"Holy Mother, Our Lady of Creative Choice, thank you for loving me unconditionally. I forever wish to walk in your light as you bathe me in pure love. Please lead me along the path that best serves my highest good as you teach me how to love and to live to the best of my ability!"
Do You Want To Support Our Website?