Today's Mother Mary Card Is...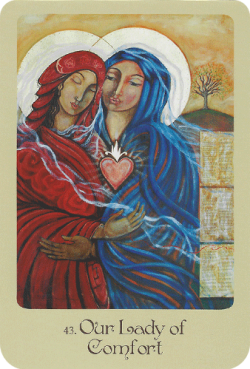 Credits: "Mother Mary Oracle" | Author: Alana Fairchild | Artwork: Shiloh Sophia McCloud | Publisher: Blue Angel Publishing
Mother Mary's message for you
Although you are unable to see me, my hand is In yours. Although you are unable to  hear me, I'm communicating to you via your emotions. I am always close by taking great care of you even when you feel lost or lonely. You are never forgotten. You are never alone. 
I am constantly close to you, offering you affection, wisdom and safety because I cannot  stand being apart from you. Please accept my message of healing and serenity into your heart! Let me dwell there so that you always feel cherished, cared for and loved no matter what is going on in your life.
Have faith that beautiful angels of serenity will come to you as you pray to Our Lady of Comfort. If you have ever questioned if the divine is real then you will soon understand that it is because you will feel Mother Mary with you. You will sense her loving angels by your side which will manifest joy and happiness in your heart. 
If you have not been connecting with lightness, delight or contentment for a while, or if you have not been able to feel a proper connection with yourself, Our Lady of Comfort says that she is with you. Things are going to get significantly better.
"Our Lady of Comfort, I thank you for loving me all my life. In times of happiness, you are with me as you are next to me when the road gets hard. Love me always as your child. Allow me to spend time in your embrace whenever I need to feel loved and resurrected."
"Smile on me when times are tough. Speak to me for reassurance, oh Holy Mother. You are the spark of divine light that exists in all living things. You alone make my heart sing. Guide me towards the best route forward via your eternal love and grace!"
Do You Want To Support Our Website?