Today's Mother Mary Card Is...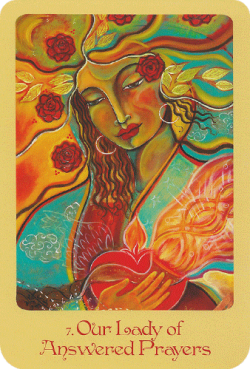 Credits: "Mother Mary Oracle" | Author: Alana Fairchild | Artwork: Shiloh Sophia McCloud | Publisher: Blue Angel Publishing
"Our Lady of Answered Prayers"
Mother Mary's message for you
Every thought you have, my most treasured child, is heard by me. Every individual petition you keep near to your heart has a special place in my heart too. I understand how much you yearn for my limitless affection. Never assume that I am not by your side or that I am not paying attention to you. Do you think I've forgotten about your emotional needs? Do you think I'm not affected by your bravery and your suffering?
You simply have to call out to me, my beloved, to experience my eternal support and encouragement. Consider me as a shield in front of you, knowing that I will never abandon you. I will never desert you since we are inextricably linked. Is it possible for you to sense me right now? Through my mercy, blessings, and profound love, I am with you to fulfil your prayers. Have complete confidence in me, just as I have complete faith in you!
One of the most effective things you can do is send your aspirations out into the cosmos through praying. When it comes to saying the words, there are no hard and fast rules, so don't worry about that!  All you need are good intentions. The mysteries and depths of your heart are known to Our Lady of Answered Prayers. She knows what you want, therefore there's no need for you to use flowery language to convince her to hear what you want!
Our Lady is always at your side, offering you her unwavering shelter. She has a powerful message of love for you. Your prayers are being answered right now in the way that best suits you. As a result, set your anxieties and concerns aside and move on. You don't need these to hold you back any longer. You're all set for a successful future!
Shut your eyes as you join your hands in prayer. If you'd like, you can say your own prayer, read the following out loud or even just silently read it into yourself. Relax and talk spontaneously from your heart about whatever you want to accomplish. You can say something like this:
"Dearest Mother, Our Lady of Answered Prayers, kindly assist me to find the strength to graciously receive the answers to my prayers. Work alongside me to help me let go of my assumptions of how things should be instead of how they actually are. I have entire faith in you as I thank you for your divine inspiration and shelter. Please be there for me in all I do. The prayers of the entire planet have been answered by your compassionate grace!"
Do You Want To Support Our Website?