Today's Mother Mary Card Is...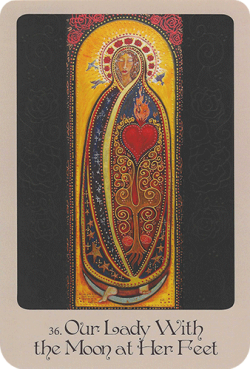 Credits: "Mother Mary Oracle" | Author: Alana Fairchild | Artwork: Shiloh Sophia McCloud | Publisher: Blue Angel Publishing
"Our Lady With the Moon at her Feet"
Mother Mary's message for you
I have picked up on even the most private of your hopes and wishes, my child. I understand exactly how you are feeling deep in your soul. Consequently, I have picked up on your hushed voice calling to me as I empathise with the agonising emotions you are experiencing. I am aware of how desperately you want to move forward as you release the past. 
Trust in me, my cherished one. I am here with you again, with the moon at my feet, pleading with you to place your total belief in me. I will travel beside you while you make your journey so that you can leave behind what is no longer beneficial to you. What you are having difficulty with right now is something that, in time, you will find flows much more readily to you. What you yearn for will be accomplished with my support.
Habit is something that comes naturally to people. Even those of us who are always looking for ways to liven up the action and get a kick out of trying something different still have activities that we look forward to and like doing even though we have been doing them for ages. Therefore, it is reasonable to assume that even if we are conscious of the aspects of our lives that require modification, it may still be challenging to avoid reverting to previous behaviours in the long run.
Right now, Our Lady With the Moon at her Feet is there to lend you assistance as she guides you through the process of moving on from particular facets of your lifestyle that you simply do not require at this point in time. You will feel freer and happier as a result of these changes.
Right at this moment, Our Lady With the Moon at Her Feet is with you. Even in the most trying of circumstances, she is there to wrap her arms around you and comfort you with her love. She has never left your side, bringing you joy along with the bravery and concentration that have made it possible for you to move on from situations that are not beneficial to you. She extends to you an invitation to say the following prayer:
"Our Lady With the Moon at Her Feet, your divine blessing guards and watches over me at all times. When I'm feeling down, your energy helps me get back up again. You offer assistance and direction to me whenever I am unable to identify a way out of a problem. Your profound vision allows me to see with new clarity because it opens the eye of my heart."
Do You Want To Support Our Website?