Today's Mother Mary Card Is...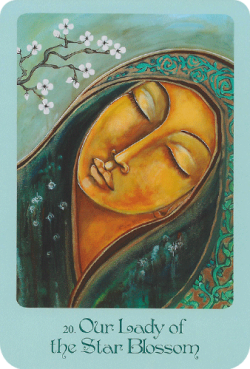 Credits: "Mother Mary Oracle" | Author: Alana Fairchild | Artwork: Shiloh Sophia McCloud | Publisher: Blue Angel Publishing
"Our Lady of the Star Blossom"
Mother Mary's message for you
I have some wonderful news to share with you from the heavens!  Numerous powerful angels have communicated their eagerness to assist you at this very moment. They say that when you find yourself in a difficult situation, it is imperative that you remember to maintain open communications with them because they can assist you alongside me.
I shall continue to be by your side even while you seek out their assistance. If we cooperate with one another, we can work miracles. Take note of the following words that come directly from the celestial realm to you,  "Request our assistance and we will jump immediately into action for you.  We are all working toward the same goal, which is the complete achievement of kindness. Keep in mind that we are constantly here to provide assistance to you!"
Because we all have free will, even if there is an army of spiritual guides standing by, ready for us to ask for their help, they won't be able to do anything until we actually make the request. There are several channels via which Our Lady of the Star Blossom conveys her messages to us. To begin, she shares with us the good news that we are surrounded by angels who are eager to help us, who know the challenges we face and who can see a way to assist us.
In addition, Our Lady of the Star Blossom can assist in the healing of emotional wounds caused by a previous separation. She wants you to know that she and the angels are able to help you recover and that they will assist you in achieving a feeling of peace and contentment. This is true regardless of whatever you have left behind you.
Together with the assistance of Our Lady of the Star Blossom, you will undergo the healing process as she provides you with words of encouragement. Even though a past hurt has been bothering you for such a long time, things are finally going to start looking up for you.
When you are ready, say the following, "Beloved Holy Mother, liberate me from worry, pain and upset. Allow me to be who I am without apologies. I reclaim my authority with your heavenly assistance and direction. Through your holy grace, there is nothing that can prevent me from doing what I set out to at this point!"
Do You Want To Support Our Website?