Today's Mother Mary Card Is...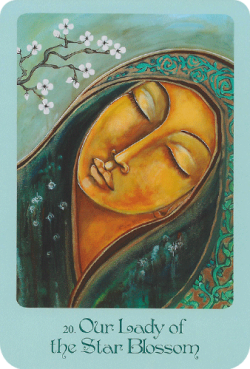 Credits: "Mother Mary Oracle" | Author: Alana Fairchild | Artwork: Shiloh Sophia McCloud | Publisher: Blue Angel Publishing
"Our Lady of the Star Blossom"
Mother Mary's message for you
My beloved I bring you such wonderful news of divinity from on high! There are some amazing intuitive and compassionate angels that want to assist you. They also want to convey to you that they adore you unconditionally. Additionally they will rush to help without hesitation should you need them to. As a result, it's critical that you seek assistance when you require it.
My child, I place your best interests at the centre of all I do. Without a doubt, I adore you. Even when you feel lonely and miserable, I am always here for you. Have entire belief in me, just as I have total trust in you!
Relax. Let Mother Mary lead you in the right direction at the appropriate moment rather than struggling to make sense of what she wants you to do. Know too that there are many spiritual guides that love and care for you. They exist solely to aid you in achieving your life's mission in whatever manner they can.
Connecting with Mother Mary and your spiritual guides can help you achieve genuine spiritual liberation. Once you've mastered this, you'll always be able to see a path ahead of you. You'll be able to share your happiness and insight with everyone you come into contact with too, which is lovely!
You will experience cleansing energy accompanied by positive affirmations when you call upon Our Lady of the Star Blossom. You've been nursing an old wound caused by being cut off from something or someone. It is true that it has been eating away at you, but things are about to move in the right direction. You are no longer required to experience feelings of anxiety, tension or being humiliated by anybody else. Always remember that if you do not give something authority over you, there is nothing that can stop you from achieving your goals!
Say the following to Our Lady of the Star Blossom, either aloud or silently to yourself, when you feel prepared: "Mother Mary, I respectfully pray for your direction, security, aid and intercession. With gratitude in my heart, I ask for this in any and all ways that are appropriate for me and that contribute to my continued spiritual development."
Do You Want To Support Our Website?