Today's Mother Mary Card Is...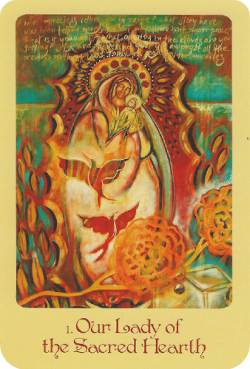 Credits: "Mother Mary Oracle" | Author: Alana Fairchild | Artwork: Shiloh Sophia McCloud | Publisher: Blue Angel Publishing
"Our Lady of the Sacred Hearth"
Mother Mary's message for you
I am your mother as well as your guide throughout life. You are my most cherished child. Because I am your home, you will always be safe in my affection. You'll never again feel abandoned or alone. You always have a safe haven with me to seek refuge from the storms of life.
You can give me your worries as well as your fears. You are incredibly adored. Can you sense it? As I wrap my arms around you, bask in the safety and warmth. You are free to do whatever you choose. Anything is possible if you put your mind to it. I have faith in you! Simply pray to me with your heart open. I will supply you with the help you require!
You may be at a strange point in your life when you believe you have outgrown your regular safety nets. You're looking for something, even if you're not sure what it is right now. Have faith in Mother Mary's presence. She will assist you in navigating the unpredictable and chaotic aspects of life so that you might find peace and a new route to follow.
You are entering a period of personal growth and learning. Yes, this may be both disconcerting and frightening. You have, nevertheless, been restless for a purpose. A new life is taking shape, one that will offer you joy beyond measure. Remember that the Holy Mother is always keeping a loving eye on you. She'll lead you to safety.
True, in order to heal now, you must concentrate on your own needs. As a result, imagine yourself surrounded by any colour of blue light you like. There are glittering little 'stars' of dazzling white within this lovely light. This is our Heavenly Mother's garment! Enjoy the sensation of her wrapping you in her pure love and light! You feel so warm and safe. Go with your feelings if you're feeling emotional right now. Regardless of what these are, let them all out. You are safe and sound.
When you're ready, take seven slow breaths in and out before praying to Our Lady. "I seek Divine wisdom, assistance, and protection, Our Lady of the Sacred Hearth, my Mother Mary.  Protect and guide me through all of life's challenges. As I glimpse the brightness of a new clear day, hold me tight in your arms. Teach me how to live my life to the best of my ability in your service!"
Do You Want To Support Our Website?