Today's Mother Mary Card Is...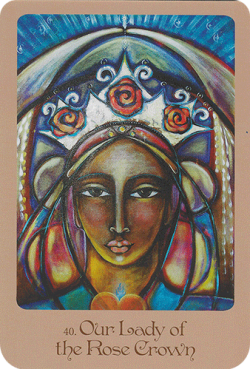 Credits: "Mother Mary Oracle" | Author: Alana Fairchild | Artwork: Shiloh Sophia McCloud | Publisher: Blue Angel Publishing
"Our Lady of the Rose Crown"
Mother Mary's message for you
Our Lady of the Rose Crown is just one of my many names. I am here to guide you always. I wish you to know that no matter what stage of life you are at, there is always something deeper to experience. Hold my hand as I take you to a new level of spirituality. Trust in me because I am holding you close in my arms now and forever!
Without even realising it, you have been preparing for this for a long time. However, all the waiting will be worth it. You will receive so many blessings from me soon, some of which you have managed to create yourself. Although you have been challenged in the past, this does not mean that you need to go through so much in the future. Have faith that everything is changing for the better, beloved child!
Our Lady of the Rose Crown tells you that you've been preparing for a while now. Excitingly, you will soon be able to open to even greater heavenly awareness. You see, your soul development is perfectly aligned with the timing of this unique and priceless treasure.
She suggests that you let go of your generalisations about how this will play out, so you can simply be awake to what is occurring inside of you as a result of her guidance. When you release your perceptions of what will happen, you open up a whole new universe in terms of possibilities which can only be a good thing!
Our universe's greatest power is love. It's everywhere and manifests in innumerable ways. To encounter this love, be available to it so you can be altered, enlightened and energised by it. To connect in the greatest depth possible with Our Lady, it is good to pray to her using these words:
"Loving Mother, please allow me to develop spiritually so I can hear what you say and do what you ask of me. May I turn to you with my concerns, adoration and gratitude as I worshipfully receive your guidance. Assist me to hear your words despite life's interruptions. Assist me to rely on your wisdom always!"
Do You Want To Support Our Website?