Today's Mother Mary Card Is...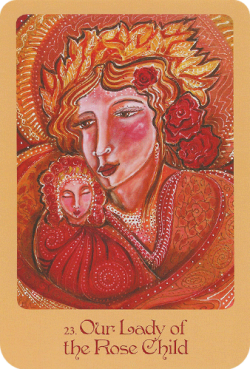 Credits: "Mother Mary Oracle" | Author: Alana Fairchild | Artwork: Shiloh Sophia McCloud | Publisher: Blue Angel Publishing
"Our Lady of the Rose Child"
Mother Mary's message for you
My beloved, you are my Rose Child, born of both ecstasy and agony. In good times and in no-so-good ones, I am with you to love you and to watch you grow. I have always been by your side – that can never change. You are never alone. Just as the rose has both a beautiful bloom as well as a painful thorn, you have so many different qualities that make you who you are!
Even though you may suffer at times when you feel you have lost your way, you are in the birthing pains of creating a new life for yourself. I adore you my beautiful Rose Child. I love you with all my heart! I ask you not to fear the darkness because it is necessary in order to see the light. I am the heavenly midwife that your soul is born through. I am the true defender of your heart. You can always trust in me.
You have suffered so much that you have become compassionate and vulnerable. By the same token, you have found strength, joy and purpose so you are light of spirit as you accept people for who they are. You are a true Rose Child. You are one of life's survivors who will always rise again.
Your beautiful heart is opening now to a world of beautiful possibilities. You are transforming as you become more and more able to receive stronger life force. All this means that you are in greater contact with heavenly energy. Mother Mary loves and protects you as you go on your way which is amazing! You are to experience joy through getting through the pain and putting it behind you.
As you see a beautiful golden light swirling around your feet, you see it forming a beautiful rose with you at its centre. You're bathed in healing love and light as you drink in its fragrance. You feel safe, happy, positive and so incredibly at home.
When you're ready, say the following prayer, "My dearest Mother Mary, you lovingly look after the world by tending to our souls as your sacred roses. I am ready to accept your healing energy as you nourish and protect me. Hold me in your loving arms as you imbue me with the strength and power to discover my own light, even when my world is dark."
Do You Want To Support Our Website?