Today's Mother Mary Card Is...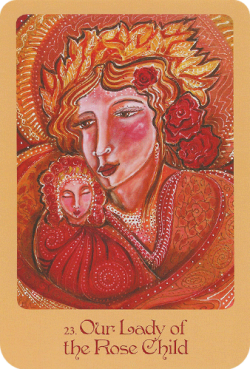 Credits: "Mother Mary Oracle" | Author: Alana Fairchild | Artwork: Shiloh Sophia McCloud | Publisher: Blue Angel Publishing
"Our Lady of the Rose Child"
Mother Mary's message for you
You are my Rose Child, fashioned from both joy and anguish. I will be at your side to adore you and to see your development no matter the circumstances. Do not  doubt that I am always here for you; that has never changed and never will. Like a rose has both a lovely bloom and a sharp thorn, you are composed of many facets. These characteristics come together to form your unique identity.
Although you often feel as though you are suffering and that you have no idea where you are going in life, the fact is that you are in the process of giving life to a new existence. My Rose Child, I adore you with every single fibre of my being! I beg of you not to be afraid of the darkness since your ability to see the light is so strong. I am the celestial midwife who is responsible for the birth of your soul. I am the one who truly protects your emotional well-being. You can depend on me in every situation!
You have discovered your power, pleasure and meaning in life, therefore, you exude a lightness of soul so are prepared to accept people just as they are. You really are a Rose Child at heart. You are one of the people that will make it through life and come out on top!
Your stunning spirit is opening up right now to a universe filled with wonderful opportunities. You are undergoing a transformation as your capacity to receive increased levels of life force grows over time. You, as a child of Our Lady, are aiding her in making her glorious pathway of peace a reality by participating with her in this endeavour. To your great relief, in the not too distant future, you will have a far greater proportion of pleasant encounters than challenging ones!
You are seeing yourself in a beautiful rose garden. As you breathe in its scent, you feel as though you're being showered in soothing joy and love. You experience a sense of being protected, happiness and optimism, in addition to a deep feeling of belonging in this place.
When you are ready, recite the prayer that follows: "My Mother Mary, you tenderly watch over the earth by caring for our spirits as if they were your holy roses.  I thank you for your continued care and protection. At times when my world is filled with darkness, I ask that you wrap your warm embrace around me to give me the force and stamina to find my own illumination.
Do You Want To Support Our Website?