Today's Mother Mary Card Is...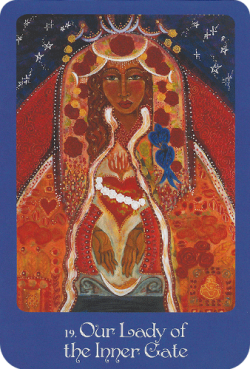 Credits: "Mother Mary Oracle" | Author: Alana Fairchild | Artwork: Shiloh Sophia McCloud | Publisher: Blue Angel Publishing
"Our Lady of the Inner Gate"
Mother Mary's message for you
The finest riches are held in the holy shrine of your heart, my dearest child. So, you can be certain that whatever is going on in your life right now has my full backing. Please feel my supportive direction as I assist you in taking a bold step into your own self. I lavish you with all of my blessings without sparing a single drop.
The only thing I ask of you in return is that you put your faith in me. As you embark on your new path, I will be there walking beside you. In order for you to understand matters as they really are, I give you the confidence to delve inside yourself and others. You'll be rewarded with riches that far exceed your wildest dreams!
When things are going well in life, it may be simpler to sense divine power. You feel elevated while you're happy and appreciating life. However, it might be hard to understand the road that has been laid out for you especially when you are experiencing losses and struggles. For these reasons and more,  Mother Mary is with you no matter what – whether you are happy or sad.
She understands precisely how much upheaval you can take in order to develop and learn as you empower and educate others. She also understands that having all you desire may not always be in your best interests. Something much more incredible might be on the way instead. Watch this space!
Tell your story to Our Lady while sitting in silent prayer. Request that she accompany you and assist you always. As you express your feelings, you will feel supported, tended to and loved. With her at your side, you may be assured that you will always be protected. Whatever is happening in your life right now, good or bad, is reinforcing your inner strength.
When you are ready, saying the following prayer will empower you: "I am welcomed by the holy fire of Our Lady as the secret doorway of my soul opens. Magnificent gifts have been showered on me, as well as several benefits. I joyfully present these to the earth from a position of compassion!"
Do You Want To Support Our Website?