Today's Mother Mary Card Is...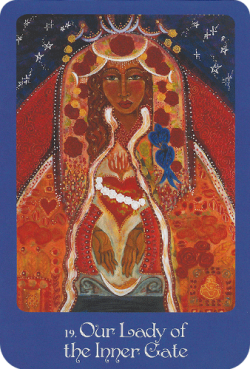 Credits: "Mother Mary Oracle" | Author: Alana Fairchild | Artwork: Shiloh Sophia McCloud | Publisher: Blue Angel Publishing
"Our Lady of the Inner Gate"
Mother Mary's message for you
One of my many names is Our Lady of the Inner Gate. I will always be here to remind you that even in the face of adversity, growth is possible. Assure yourself that your glorious inner power is sufficient for this to happen! I have every faith in you!
Understand that you have the capacity to choose how you see your circumstances. By choosing to recognise that there is a real lesson in your struggle and by remembering to have confidence and belief, you will be successful in your transformation into a more genuine and more profound life experience.
The initiations of Our Lady are sacrosanct, and everything that is going on in her world is actually orchestrated directly by her. Your spirit is the most holy sanctuary, and she is continually pointing you in positive directions. You'll need a lot of guts, confidence, and belief to reach your ultimate goals. 
Mother Mary offers you her blessings voluntarily and unreservedly. You need to put your faith in her so that she can give you the confidence to go on this adventure. Your rewards will be incredible!
You are growing into a more potent force in the world. For those of us with an inherent feeling of spiritual duty, we may question if we're constantly emitting positive vibes! Please do not worry about that at all!  Being yourself and trusting yourself is all that's required; being faultless isn't. When you put your faith in the Divine, you become infused with the highest power and compassion.
When you feel ready, say the following, "As my heart's inner door is opened, I am enlightened by the holy fire of Mother Mary. I have been showered with magnificent gifts as well as innumerable blessings. Enable me to  share these with the universe from a place of gratitude!"
Do You Want To Support Our Website?