Today's Mother Mary Card Is...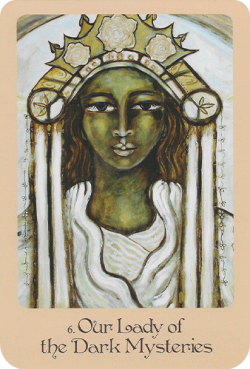 Credits: "Mother Mary Oracle" | Author: Alana Fairchild | Artwork: Shiloh Sophia McCloud | Publisher: Blue Angel Publishing
"Our Lady of the Dark Mysteries "
Mother Mary's message for you
My essence remains constant, despite my various appearances and names. Now and always, I am your adoring mother.  Even during the times you felt isolated, I was always there for you. I am with you in both the good and the bad. Even when life doesn't appear to be going your way, I'm there for you. Have trust that I'll always be there for you, no matter what you're dealing with.
Your happiness and safety are at the heart of my universe as your mother. With my presence in your world, you will have enormous spiritual strength and tranquillity. You, too, are a radiant being. By embracing your divine nature, you will help and assist others in moving from a state of suspicion and anxiety to one of compassion, generosity, and sheer delight. Even in the dead of night, my child, you exude spirituality!
When Mother Mary reveals her light face to us, it is quite simple to recognise her presence. Then, we sense her empathy, calm energy and kindness. However, it's more difficult to perceive her being there when her face isn't as bright. When we go through grief, anger, alienation, death, and other bad emotions, we may feel this way. She is always there for us, even while we are fighting our inner demons to keep afloat. 
Her dark face is as warm and beautiful as her bright one. Mother Mary's dark face, sometimes known as the Black Madonna, gives us all hope. You see, even when you're sad or depressed, you're secure in her loving arms. She provides you with unwavering brightness in the present and the future. She has come to answer your prayers because you are in desperate need of her. As you feel and then express your feelings in safety, remember that she is cradling you in her warm embrace
Picture a lovely river of sunlight streaming before your eyes while you sit calmly. Slowly, a lovely black face appears, subconsciously encouraging you to let go of your anguish. You sense the world's pain in her beautiful, black eyes, but you instinctively understand that all will be well.
Permit yourself to offer her unconditional love as you pray, "Our Lady of the Dark Mysteries, I am so very grateful for every single one of your blessings!  My Mother, I beg you to assist me. Work through me so that I may help the world in every manner possible. I pray for your advice and assistance so that I may carry out your desires."
Do You Want To Support Our Website?