Today's Mother Mary Card Is...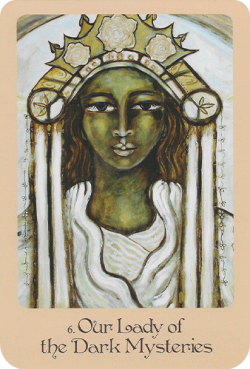 Credits: "Mother Mary Oracle" | Author: Alana Fairchild | Artwork: Shiloh Sophia McCloud | Publisher: Blue Angel Publishing
"Our Lady of the Dark Mysteries "
Mother Mary's message for you
My essence remains the same no matter how many guises and identities I go by. I'll always be your mother, and I'll always love you. Even throughout the times you have felt alone, I have always been around you. I'll be there for you both in the dark and in the light. You can count on my support even when things are going brilliantly in your life. You can always count on me!
As your Holy Mother, I value your well-being and contentment above all else. With my light shining on you, you will have access to tremendous spiritual strength and tranquillity.  Even on the darkest of days, my darling, you exude divinity!
Our Lady of the Dark Mysteries imparts such bravery in the spirits of all her dear children. She is there when we need to alleviate our sorrow. She comes to us to comfort us that we will progress through any periods of difficulty. She teaches us to be attentive to our pain, letting it wash through us in waves.
Once these waves are still, we can continue on with our lives. We are the same people we have always been, just a little wiser and more aware. Light and darkness are two sides of the same coin. One cannot exist without the other. Therefore, it's crucial to be respectful of both. 
Our Lady of the Dark Mysteries will help you to connect with and to ultimately release your feelings, even if they are so terrible that you feel as if they are tearing you apart. Have faith that you are assisting in releasing the anguish of the world. Did you realise that Mother Mary suffers in the same way that we do because she is one of us?
To pray to Our Lady of the Dark Mysteries, say the following, "Holy Mother, you represent every creature subjected to brutality, every person treated with disrespect, every tree felled, every marine animal killed by waste and every heart that aches while seeing prejudice and negativity. I feel your strength, compassion and love deep within my heart and soul as I focus on honouring you always!"
Do You Want To Support Our Website?