Today's Mother Mary Card Is...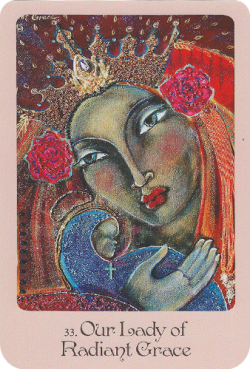 Credits: "Mother Mary Oracle" | Author: Alana Fairchild | Artwork: Shiloh Sophia McCloud | Publisher: Blue Angel Publishing
"Our Lady of Radiant Grace"
Mother Mary's message for you
 Everything you know undergoes a metamorphosis as my grace pours down upon you, my child. As you acquire freedom as well as fresh concentration, you will notice that it stimulates your heart, brain and soul in ways that you could not have anticipated. 
It is time to release past hurt as you place your confidence in me. I guarantee that I will not allow anybody or anything to hurt you or constrain your essence in any way at all. You are able to live an exciting upbeat life because you have the flexibility to do so. Your energy, my dear, will never be confined in any way again!
In today's world, we can only succeed in being kind, giving, enthusiastic, innovative and progressive if we have complete trust in our own abilities. Our belief that we are deserving is a necessary precondition for receiving.
This isn't motivated by a sense of entitlement or a sense that the rest of society owes us something. It is because we should believe in ourselves because we are divine children of Our Lady. So, be still and soak in the kindness of the Holy Mother as you work your way toward true happiness and fulfilment in your life!
Believing that you are enough precisely as you are will transform all aspects of your life for the better. You don't need to alter yourself in order to be respected, trusted and valued. You just need to be happy in your own skin.
With this in mind, say the following prayer when you are ready, "My heart is full with Our Lady of Radiant Grace's dazzling kindness! She offers me the room I need to thrive and grow in all aspects. Her noble compassion enables me to fulfil my heavenly mission. Let this happen by the strength of my own free will and the blessing of Her sanctified name!"
Do You Want To Support Our Website?