Today's Mother Mary Card Is...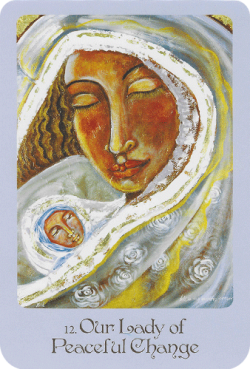 Credits: "Mother Mary Oracle" | Author: Alana Fairchild | Artwork: Shiloh Sophia McCloud | Publisher: Blue Angel Publishing
"Our Lady of Peaceful Change"
Mother Mary's message for you
My dearest child, incredible changes are coming your way. These are to be triggered by the loving prayers that you hold deep inside your heart. Do not worry because these changes will be positive for you. Just trust that I am here to support you throughout every change that's coming up for you. I am here to support you as you make any transitions as I hold you safely in my loving arms.
Please don't waste your time worrying. You have so many more worthy purposes to use your energy on. So, find the time to relax, my dear one. Have faith that the changes you are either experiencing now or are about to go through are the blessing of my heavenly answer to your innermost prayers!
You have been hoping for changes to occur in your life. And, the great news for you is that these will be happening for you any time now! In fact, some changes could already be underway. With this in mind, now is an exciting time for you! Remember that not every change needs to be difficult. Even though you may feel apprehensive or even worried, have faith that Our Lady of Peaceful Change is with you!
We all have differing capacities for accepting change so there are no rights and no wrongs. If you're ready and set to embrace all the new things that are set to happen for you, that's great! If you feel a little reticent, then don't worry because Mother Mary wishes you to know that these changes need to happen for you to achieve your goals in life.
As you sit in a peaceful space, see yourself filled with light. Feel Mother Mary's arms as she embraces you. She is holding you in her loving arms now and always. Enjoy that sensation for as long as you like. When you are completely ready, say the following prayer.
"Divine Mother, Our Lady of Peaceful Change, you love me unconditionally. I feel you with me now as I gratefully accept your pure grace, love and protection. I trust you implicitly knowing that you will inspire the changes in my life that need to happen."
Do You Want To Support Our Website?