Today's Mother Mary Card Is...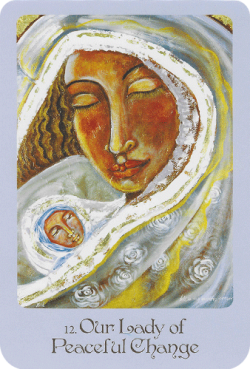 Credits: "Mother Mary Oracle" | Author: Alana Fairchild | Artwork: Shiloh Sophia McCloud | Publisher: Blue Angel Publishing
"Our Lady of Peaceful Change"
Mother Mary's message for you
My beloved child, you are soon to be in for a big surprise that is  to be activated by your heartfelt petitions of love. Do not be alarmed; these changes will work in your favour. Just know that I'll be here to help you through any transitions that may arise in your life at any given moment. I am here to help guide you through any transformations in your life.
My beloved, the hours you spend stressing are a complete waste of energy. There are a plethora of better pastimes to devote your time and effort to. So, my love, set aside some time to unwind. Your deepest petitions have been heard. Not only that but the breakthroughs you are undergoing or are about to undergo are the blessings of my divine solution.
You want your life to be different. And, good news, you'll have the changes you have been dreaming of very soon! Improvements are happening. Now is an amazing moment! If you are worried then just remember that change isn't always hard. Our Lady of Peaceful Change is with you, so have confidence.
There are no rules or laws since we all absorb change differently. If you are ready to welcome new experiences into your life, that's excellent! Mother Mary wants you to realise that you must make these adjustments to reach your goals.
Imagine that you are surrounded by light as you relax in a beautiful serene space. Feel the warmth of Mother Mary as she wraps her arms around you. She is comforting you. Feel free to savour that experience for as long as your heart desires. When you are totally prepared, recite the prayer that is listed below.
"Love and compassion is what you have for me, Our Lady of Peaceful Change.  I humbly accept your perfect kindness, care and security at this time as I sense your presence with me. I have complete faith in you. I am certain that you will motivate me to make the necessary adjustments in my life.
Do You Want To Support Our Website?