Today's Mother Mary Card Is...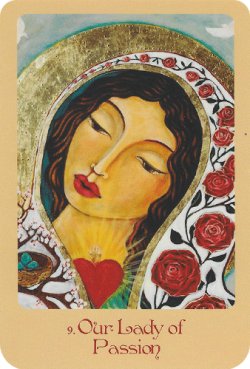 Credits: "Mother Mary Oracle" | Author: Alana Fairchild | Artwork: Shiloh Sophia McCloud | Publisher: Blue Angel Publishing
Mother Mary's message for you
Your heart is ablaze with a radiant heavenly flame right now.  It doesn't matter if you're conscious of it or not, this fire is deeply buried inside you.  You radiate with intensity, focus, and exuberance. I have given you the gift of igniting your fire.
Think about how wonderful it is to be present in the moment and take pleasure in everything that life has to offer while being free of fear or concern. You may count on my full support and excitement in your endeavour. My darling one, you are free to fantasise while you take pleasure in the wonderful things that fulfilment has to offer. So that the entire world might profit from your wonderful, holy excitement, I have sent you everything you could possibly need.
You may be concerned that you lack enthusiasm in your life right now. Or, you may believe that you have a crystal-clear life mission and a drive that has no bounds! There is a seed of passion, divinity and truth within you that Our Lady has sown. Even though you think you know what your life's mission is right now, a profound enlightenment and awareness is about to take place for you.
You're connecting with a higher cause. It's the whole total of your ideas, activities, relationships, aspirations, and everything else. Thankfully, you are surrounded by all the spiritual assistance you could possibly want. Your mission in life is to become the true, wonderful, and cherished version of yourself!
"I beg you to look at me with kindness. You are my healer, Mother Mary; may your life-enhancing energies pour into the depths of my spirit, cleansing and returning me to completeness and energy."
"When it comes to achieving my life's purpose and setting objectives, I'm directed by the kindness and mercy of Mother Mary and the desires of my own heart. I've got all the help and motivation I need to succeed. My passion also reveals my true calling. My life is being perfectly orchestrated by the hand of the divine. Let it be thus now and always!"
Do You Want To Support Our Website?