Today's Mother Mary Card Is...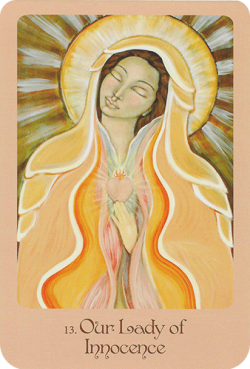 Credits: "Mother Mary Oracle" | Author: Alana Fairchild | Artwork: Shiloh Sophia McCloud | Publisher: Blue Angel Publishing
Mother Mary's message for you
Today, my most beautiful child, I want you to release any fears you have about being scrutinised. Even though you've had to deal with a lot of tragedies in your life, you're still the same person within. Take a chance on me; I won't harm you in any way.
You may confide in me about anything since I am able to perceive your innermost thoughts, feelings and desires. When you trust in confiding in me with things that you don't even feel comfortable admitting to yourself, I will never criticise. I am here to help you grow and accept yourself, my child.
Even if we enjoy the advantages that come with adulthood, we cannot guarantee that they will bring us pleasure. There are instances when a negative event may warp our perspective on life as a whole as well as the people in our immediate environment. However, we are limiting the freedom of our soul by harbouring negative thoughts. Thankfully,  we have the potential to set ourselves free by looking at the world through the eyes of a child.
Know always that you are in Mother Mary's prayers as she hopes that you have a happy life. She urges you to view the world as if you were seeing it for the first time, with childlike wonder. Enjoy living in the here and now and give yourself permission to laugh as well as to have fun!
You are bathed in a kaleidoscope of sound and light that illuminates and encircles you. You feel revitalised as you  feel reborn via this holy water cleansing you from old upsetting memories as well as negative ways of being and seeing yourself.
As you relax, let the comfort of her love wash over you. Then  say, " Assist me in regaining a sense of innocence and faith in myself, the Mother Mary of Innocence. May I be a beacon of hope for those who need to see their own essential purity. We pray that for the sake of humanity, truth and morality may triumph over lies and ego."
Do You Want To Support Our Website?