Today's Mother Mary Card Is...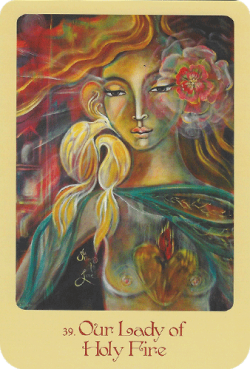 Credits: "Mother Mary Oracle" | Author: Alana Fairchild | Artwork: Shiloh Sophia McCloud | Publisher: Blue Angel Publishing
Mother Mary's message for you
My beloved, I am igniting the flames of the holy fire inside you right as you read this. To live a full life is to burn with the fires of passion. You can be passionate about many things including people, interests, causes and so much more. I come to you today to remember also to honour me as you feel a passionate devotion to a higher purpose. 
Honour me even if you feel that everything you love is burning away before your eyes or that you are lost in the darkness. Let me be the beacon of holy fire that leads you back onto the right path. Allow me to guide you to open your heart and to allow it to remain that way no matter what you face in life. Be my beloved holy light that spreads everywhere you go.
It is a sad truth that when there is no spiritual passion in your lives, we tend to feel drawn to empty substitutes. For example, how many times have you yearned to be in some "perfect" relationship with your "ideal" person? How many times have you been disappointed when this does not manifest or even if it does, you end up being disappointed and disillusioned?
Similarly, you may have a concept of an amazing job in your mind but when you secure it, you still feel a sense of emptiness inside that you can't put your finger on. To feel absolutely connected to your own divine destiny, you need to allow your heart to connect with and to burn for the divine essence. You need to link in with something greater than your own needs and desires to feel truly fulfilled.
Our Lady Of Holy Fire is the guardian of the intuitive soul, the soul that longs to connect with divinity in a genuine, fulfilling, and tangible manner. That soul is more interested in knowing divinity than in playing psychological games or ruling the earth. That soul yearns to see spiritual revelation and cut through all the junk it knows isn't vital.
With this in mind, the following prayer will help you to connect with her, "Mother Mary, Our Lady of the Holy Fire, bless me, your child, with your compassionate powerful truth. Let me burn with that honesty to set myself and the world free!"
Do You Want To Support Our Website?