Today's Mother Mary Card Is...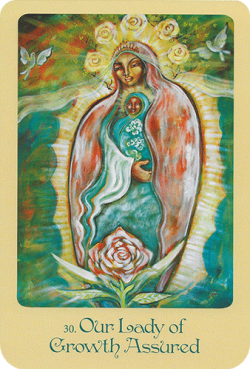 Credits: "Mother Mary Oracle" | Author: Alana Fairchild | Artwork: Shiloh Sophia McCloud | Publisher: Blue Angel Publishing
"Our Lady of Growth Assured"
Mother Mary's message for you
Have trust, my child, for a glorious incarnation of something that you have yearned for is on its way to you very shortly. This is something that you have yearned for. Your contentment and the wellbeing of others depends on your ability to exercise the calm required to allow this birth to take place at the exact time that it is supposed to.
Allow me to handle the pacing for you in this situation. Put your faith in me to assist you in any way I can and I will make sure that your vision comes true in a manner that is both organic and filled with the happiness that you so richly deserve.
You have been thinking about getting started with a certain endeavour recently. If this is a new undertaking for you, whether it be a partnership, a career or even a new ideology, the Holy Mother says that your development is guaranteed. Your accomplishments during the next few weeks and months are already destined to happen, so you can rest assured that good things are in store for you.
It goes without saying that you must also keep up the effort since doing so will ensure that your level of concentration remains high and that you will be successful. Just remind yourself to keep a cheerful attitude and keep your hopes high, since no matter what happens, everything will work out for the best!
Imagine a gorgeous, green landscape that is bursting at the seams with new life. Take pleasure in the many lovely plants and flowers that are present. Suddenly, you see a stunning woman cradling her baby as she observes the new shoots that have sprung from the ground. You are developing and blooming just like those flowers and plants.
When you feel it is the appropriate moment, say the following, "My Mother Mary, I pray that you look after my spiritual progress. Help me find my way so that I can accomplish everything that I set out to do. I pray that you will nurture my development as carefully as you do the development of the flowers you care for in your garden. I pray that with your grace, this will come to pass."
Do You Want To Support Our Website?