Today's Mother Mary Card Is...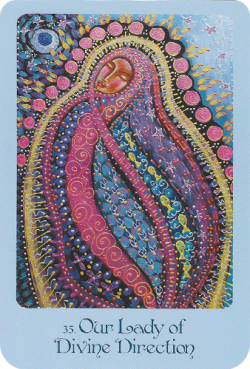 Credits: "Mother Mary Oracle" | Author: Alana Fairchild | Artwork: Shiloh Sophia McCloud | Publisher: Blue Angel Publishing
"Our Lady of Divine Direction"
Mother Mary's message for you
My beloved child, I am guiding you now and into the future. You will never lose your direction for long because I am with you. I am holding you in my grace as I give you a gentle nudge to help you move forward. All I ask of you is that you trust in me. When you believe in me, you are also believing in yourself because we are both part of each other.
Recently, you either had or you are soon to have a last minute change in your direction in life which will come out of the blue. You may well be pretty surprised, in fact. My guidance for you is not to resist this. Allow yourself to be guided by my loving hand so you keep on moving towards your destination. Pray to me as you feel safe and secure in the knowledge that you are being divinely guided.
Often there are times when the fastest way to achieving what you want is to take an indirect route instead of focusing on the obvious one that's right in front of you. What's amazing about your current situation is that Mother Mary is watching over you, always ready to help you to change direction if and when you need to (often even before you know that you need to yourself!)
One huge way in which she will share her guidance with you is via your intuition, so always be prepared to listen to your inner voice. Your gut feelings are usually spot on. In fact, how many times have you had a strong feeling about something that turned out to be right? With this in mind, be very aware that divine direction is at play in your life at present!
In your mind's eye, see yourself at a crossroads. Although there are no street signs or people to ask, you need to make a decision. Thankfully though, you find that you can do so with ease because you know inherently that all you need to do is to call on Mother Mary for her help.
Say this prayer out loud when you are ready, "Our Lady of Divine Direction, guide me so that I can gratefully accept all directional changes as I fulfil my life path. Be with me, my Mother Mary as I take steps towards realising my destiny. I ask that you bless me with courage and trust and protect me with your loving grace!
Do You Want To Support Our Website?