Today's Mother Mary Card Is...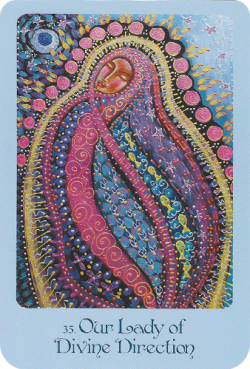 Credits: "Mother Mary Oracle" | Author: Alana Fairchild | Artwork: Shiloh Sophia McCloud | Publisher: Blue Angel Publishing
"Our Lady of Divine Direction"
Mother Mary's message for you
I am here to help you now and always, my beloved. Because I am at your side, you will never be without a sense of balance for long. Keeping you in my loving arms, I gently urge you to forge ahead. All I want is for you to put your faith in me. In the same way that I am part of you, you are also a part of me!
You may have experienced a sudden, last-minute shift in your life's course lately or may do so in the near future. For your greatest good, my advice is to accept this for the gift it is. Follow me as I lead you to your destiny so that you can keep progressing forward. You can pray to me with confidence, knowing that you are being led by heavenly forces.
In many cases, it's better to take a more roundabout route to your goal than concentrating on the clear path ahead of you. One of the most beautiful aspects of your present circumstances is that Mother Mary is keeping a close eye on you. She is always prepared to lend a hand when you need to get back on track.
You will pick up a lot of her advice by listening to your instincts, so keep that in mind when you're working with her.  Your intuition is generally good most of the time. As a matter of fact, on how many occasions have you had a gut sense that ended up being correct? Remember those times in the knowledge that spiritual guidance has always been at work in your life!
Reflect on where you've been and where you want to go in your life. You must be brave in order to make a clear and informed choice. Because you already know that calling on Our Lady will help you with this, you can relax and just consider your options.
pleaseWhen you are completely ready, say the following, "Our Lady of Divine Direction, please lead me so that I can graciously welcome any changes as I accomplish my path in life. Mother, I ask that you accompany me on my quest to fulfil my mission. In your compassionate care and protection, I beg that you bestow upon me bravery and faith!"
Do You Want To Support Our Website?