Today's Mother Mary Card Is...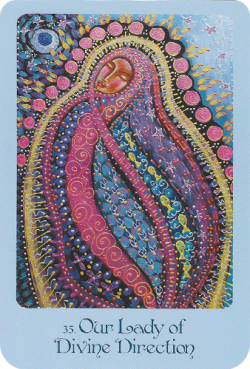 Credits: "Mother Mary Oracle" | Author: Alana Fairchild | Artwork: Shiloh Sophia McCloud | Publisher: Blue Angel Publishing
"Our Lady of Divine Direction"
Mother Mary's message for you
Please place your faith in me, my child. Is there something you've recently experienced that surprised you, or is there a change in direction you feel drawn to but you are unsure why? If so, don't try to fight it. Your life's path is guided by my hand.
A stumbling block that you can simply sidestep and yet get to your target has been foreseen by me. We'll get there together if you put your trust in me and rely on my guidance. Have faith that you are being divinely directed to do what is right for you and your happiness over the coming weeks, months and years ahead of you!
Sometimes the fastest path to a target is not the most apparent or direct path. You'll see the face of Our Lady Of Divine Direction when you're on the verge of making a right or wrong turn or decision. This is either about to transpire or has already occurred.
Trust in your instincts for now and you will see why shortly. It could be for the purpose of personal enlightenment, or it may be for some other reason entirely. There's a chance, though, that a moderately (or significantly) divergent road will lead you in the right direction.
Create a mental image of yourself standing at a fork in the road. Even though there are no road signs or other folks around to ask for directions, you still have to make a choice. You discover, however, that you are able to do so without much difficulty, which is a relief, given that you are aware, on some level, that all you have to do in order to enlist Mother Mary's assistance is to pray to her.
When you are comfortable, speak aloud the following prayer: "Our Lady of Divine Direction, lead me so that I may be able to graciously embrace all changes in direction as I work to accomplish my life trajectory.  Remain by my side, Mother Mary, as I move forward in the direction of fulfilling my vocation. I humbly pray that you bestow upon me the virtues of bravery and confidence and that you guard me with the love and mercy of your heart."
Do You Want To Support Our Website?