Today's Mother Mary Card Is...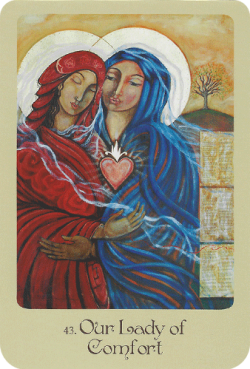 Credits: "Mother Mary Oracle" | Author: Alana Fairchild | Artwork: Shiloh Sophia McCloud | Publisher: Blue Angel Publishing
Mother Mary's message for you
My hand is in yours, even if you can't see it. Even if you can't hear me, I am able to communicate with you through your feelings. No matter how abandoned or alone you feel, I am always here for you, caring for you. Always remember that you're never ignored, for there is no such thing as going it alone.
To avoid being separated from you, I keep myself near to you, providing you with my love, knowledge and protection. Let my words of recovery and peace be a blessing to you! Make yourself a home inside me, my child. You are completely safe as well as loved without measure.
Have trust that Our Lady of Comfort will answer your prayers by sending you lovely angels who will help you find peace. You will get a sense of Mother Mary's presence when she is with you. You will also feel the loving energy of her many angels beside you bringing you joy and delight!
Our Lady of Comfort says she is here for you especially if you have been feeling a lack of pleasure, happiness or satisfaction, or if you have not been unable to connect with yourself properly. Fortunately, things are about to get a lot better. You will feel so relaxed as you step into a brand new era of life!
"Our Lady of Comfort, I am grateful to you for always being there for me. When things are going well, you're right there by my side, just as you are when the going gets tough. You love me like your child at all times. Whenever I need to feel cherished and reborn, let me spend time in your arms."
"When circumstances are bad, please have mercy on me. Oh, Holy Mother, please speak to me for reassurance. All living creatures have a divine spark within them. Only you can make my heart sing. Please, by your everlasting love and grace, direct my steps. I am grateful to you for always being there for me."
Do You Want To Support Our Website?