Today's Mother Mary Card Is...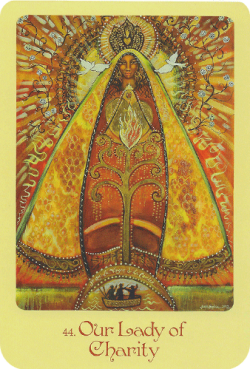 Credits: "Mother Mary Oracle" | Author: Alana Fairchild | Artwork: Shiloh Sophia McCloud | Publisher: Blue Angel Publishing
Mother Mary's message for you
Only my most capable offspring are entrusted with the responsibility of helping those in need. So, in order to help you carry out my mission on this planet, I'm here to encourage and protect you. My powers are so broad that I can aid and see you at all times, my child. You are always secure in my arms.
You have the potential to do so much. As you let go of anxiety, I'm helping you to focus your attention on me. Be certain that I'll be there to support you along the way. Also, please do not doubt yourself since you're more than ready for this new chapter in your life!
There are some healers who have never studied the craft taken an exam or who may even be unaware of their innate talents.. Even if you've never given it any thought, you possess the ability to heal yourself as well as other people. Isn't it interesting how when individuals open up to you about their innermost fears and worries, they immediately feel much better? Your healing energy is responsible for this!
All throughout your life, many people will look to you for advice and assistance. However, it's important to remember to take care of yourself, as well. Because you've been through a lot, you are incredibly well-suited to pass on your experience and positive outlook to others.
Consider the things that are worrying you or the people closest to you right now. Imagine that you are in the middle of a severe thunderstorm and that the storm is a metaphor for the challenges you are currently facing. Your thanksgiving prayer is answered, and the storm stops just as you finish saying it:
"I humbly ask you to perform healing miracles in my life. Holy Mother, please help me to walk the path to happiness and health. You have provided me serenity, compassion and strength and I want to share that with the world! Let this happen by the strength of my own free will and the blessing of your sanctified name!"
Do You Want To Support Our Website?