Today's Mother Mary Card Is...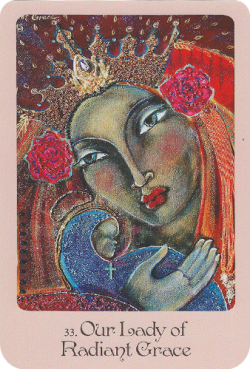 Credits: "Mother Mary Oracle" | Author: Alana Fairchild | Artwork: Shiloh Sophia McCloud | Publisher: Blue Angel Publishing
"Our Lady of Radiant Grace"
Mother Mary's message for you
Feel my radiant grace as it enhances and changes your present and future. Be ready to feel brought to life in so many ways as everything is set to feel new and exciting to you over the coming days and weeks. I am with you to imbue you with a brand new sense of freedom and hope. Can you release the attachment you have to old ways of thinking, feeling and doing things?
Are you able to put your feelings of control and oppression behind you? Of course you can do these things, my beloved one. As my child, when you put your trust in me, you will never be hurt by anyone or anything. Nothing on earth can undermine or confine your beautiful spirit. You are safe to fly free because you are protected by my love!
It's true that you have been hurt in the past but you can and will learn to trust again. Unfortunately, there is an underlying current in the modern cultural world that tries to break the spirit and to suppress the soul. However, Mother Mary is breathing new life into all those who follow and love her. So, instead of being pushed to fit into a stereotype, it's time for you to believe that you are good enough as you are!
You can see situations for what they truly are now. People who turn away from the spiritual world no longer upset you because you are free to love, breathe and speak your own authentic truth. You are turning away from fear and from power games because these are not related to your own personal experience. These are not you.
Have faith that everything in your world is set to take a turn for the better because of the realisation that you are enough as you are. You don't need to change anything at all about yourself in order to gain the appreciation, love and acceptance of anyone else. Live for yourself. Make yourself happy so long as you don't upset or hurt anyone else.
A wonderful prayer to reinforce this is, "Our Lady of Radiant Grace resides within my heart. She frees my soul, body and mind to thrive and to grow. Through her honourable grace, I now open myself to fulfilling my spiritual destiny! Let this be so."
Do You Want To Support Our Website?