Today's Mother Mary Card Is...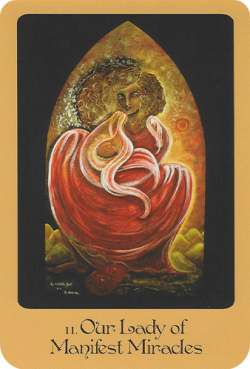 Credits: "Mother Mary Oracle" | Author: Alana Fairchild | Artwork: Shiloh Sophia McCloud | Publisher: Blue Angel Publishing
"Our Lady of Manifest Miracles"
Mother Mary's message for you
When you put your faith in me, anything is doable. Love tries to make itself known to you in whatever way it can. Thank you for trusting me with your body, mind and soul. Every day is a new opportunity to experience heavenly energy. Even in the midst of your grief, know that I am always here for you. 
My child, know that I am your mother. You and I can create awe-inspiring things together. Be confident that heavenly love is surrounding you right now. Are you looking forward to the realities that you are going to channel?
For many of us, a miracle is something that happens just once in a lifetime. Mother Mary, on the other hand, wants you to know that these marvels happen so often – every day, in fact! To experience these, you must keep your eyes, mind and heart open.
Let go now and let amazing things occur of their own volition. When everything comes to fruition, you'll feel so completely free and happy, so just be open to miracles coming your way! Have faith in yourself as you go through each day seeing the good in everything. Keep your heart open to new happiness!
Imagine a red rose carpet at your feet. You see beautiful bright rays beaming from each bloom as you inhale their smell. This glorious light is brimming full of Divine Mother vitality, offering a solution to all difficulties you will ever go through. 
"I know, Mother Mary, that nothing can stand in my way while you are on my side. I pray for a miracle. I trust in my heart that you will grant it to me without any conditions. In my heart, there is nothing that can separate us. Thank you for making it possible for us to achieve great things together now and always."
Do You Want To Support Our Website?